This is a year long program to bring mindfulness into a educational setting. There are many mindfulness programs and books where you can learn mindfulness in a short time. Mindfulness out of the box takes an embodied view, which means allowing mindfulness to physically come into the body. This is similar to learning to drive a car in the beginning your learn the actions and after a while the actions become embodied: you can start to notice the way your feet/hands move without thinking about the moves themselves. This leads to a more effective understanding of well-being and will have a better chance of reaching long term benefits of a well-being program.
This programs includes developing mindfulness with personal and professional development

A introductory session about the program.
From Stress to Freedom – A six week Mindfulness course with  90 minute live training and includes a one day retreat. This is supported by a online learning module – more details can be found here
The six week mindfulness course includes a day long silent retreat, which would include training in Tension Release Exercise and one of the best ways I know to understand and deal with the immediate impact of a stressful situation and to help others when they are in stress.
Each month after the six week course there is a module to develop mindfulness in relationship with others and is based on the needs of the group/institution. 
Starting a Fresh  – Explores how we can best take care of ourselves

Resting in uncertainty – How to use mindfulness to deal with change

Your Presence makes difference – An important aspects of bring mindfulness in the classroom

Mindfulness and the teenage mind – How to embrace educating teenager mind.
Mindfulness and Spirituality –  Amaranatho brings over decade of working with young people from a faith and no-faith perspective, as well as running Jewish Buddhist retreats.

Interpersonal mindfulness Practice – This day workshop explores how we can effectively relate and communicate with other people from a mindfulness perspective. One day workshop

It's always now – A chance to reflect on the program and reminder ourselves of the essence of a mindfulness practice.

Other modules are available on request

Supporting critical thinking
Applied mindfulness
Social and emotional intelligence

Encouraging curiosity and creativity
Embodied and experiential learning
Innovation and fun

Developing a sense of appreciation and awe
for ourselves and others
Outcomes
Participants will have a practical and personal understanding of mindfulness

Improved attention skills

Improved self regulation of emotions

They will know the benefits of having a regular mindfulness practice

They will have some practical suggestion to applying mindfulness in classroom management

They will experience well-being, nourishment and community spirit

That the explore-play-love framework is a vehicle of personal transformation to a happy, healthier and more peaceful life.
Save
Save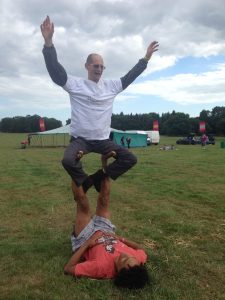 Who is Amaranatho?

Amaranatho brings his accumulated skills to working with young people, having been a Buddhist Monk for 15 years. He has also been in leadership roles for most of his life, as a young adult in the computer industry, as well as a world explorer. He has developed and ran residential retreats for large groups of families, young people and adults, as well as facilitating corporate workshops. He creates a safe space for authentic communication and is a natural trouble shooter. He is interested in the interpersonal aspect of mindfulness and how we can use our daily interaction with people to develop emotional resilience, kindness and peace. His approach is based on cutting edge science, ancient wisdom and the creative use of multimedia. You can find out more about me here and read about my other workd with young people here
My approach
I support educational establishments  in mindfulness based learning with social and emotional intelligence influenced by a developmental and neurosciences perspective of young people. I use the Explore – Play – Love framework to embody wisdom, creativity and self-reliance in both students and staff, leaving them inspired to be life long learners and live a life of meaning and purpose both individually and in society.
Testimonials
What previous participants have said about six week Stress to freedom course
"I can remember a week or so ago when I had resolved an issue by allowing an uncomfortable feeling to be welcome for a while, and then feeling it lift and my spirit expand and saying spontaneously 'yay I am free' and I grinned, all this time I knew there had been a shift, but never before had I felt free, damn that Amaranatho I had gone in skeptical and his course worked ?
Transformative course. More than any other retreat attend.
Very applicable to everyday life. 
Come along to experience a change
Course was very practical and thought provoking
whilst equipping me with very useful techniques to utilize

image from here