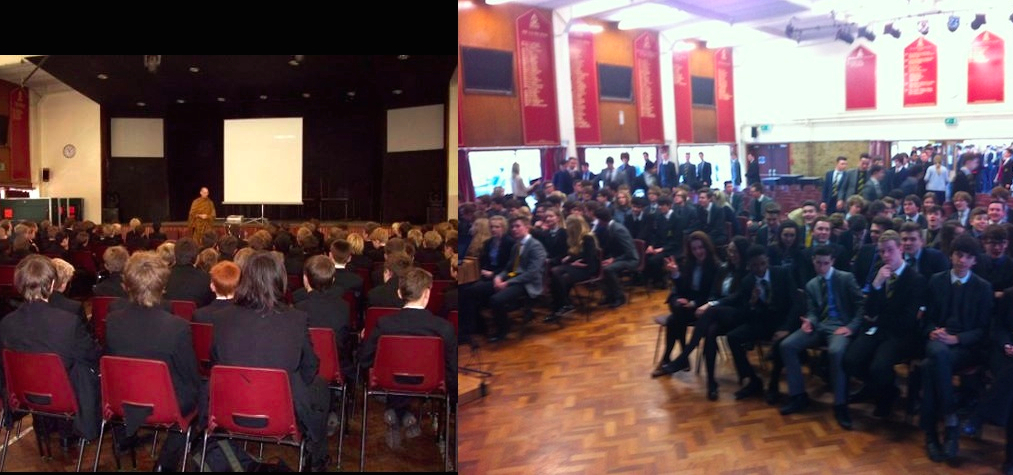 I have a given public talks to 100's of people at a time from students at Eton College to the general public at festivals, Buddhist temples and many other organization around the world.
Mindfulness for mental Health
Sponsored by Richmond Fellowship and Visability.
Perth Australia

A public talk given to a audience of around 80 people, as part of mental health week.
Informative & Entertaining
Excellent Venue & Excellent Speaker. Very valuable
Bloody marvelous, fantastic
I thought it was very good, thought provoking, I will give it a go!
Amaranatho was very well informed. I could tell he knew a lot about mindfulness & was just touching the tip of the ice berg
It was great to hear the info presented in a way that combined science but also spiritual/emotional content
Over 90 percent of the audience agreed that the talk helped them personally/professional and they found it interesting.
Turning straw into gold –   Public talk and Dialogue
Friday night was unlike any other I have had at the Buddhist Society. I have rarely talked to the other attendees before.  Surprisingly articulate. Not sure if this sort of  interaction is part of Buddhism but, as you know,  I believe it is a necessary part of the journey to becoming fully human.
Thanks again for a wonderful talk at dhammaloka on Friday. Always appreciate the genuine angle from which you approach things. Quirky too
Image from here